Travel guide to Santorini, Greece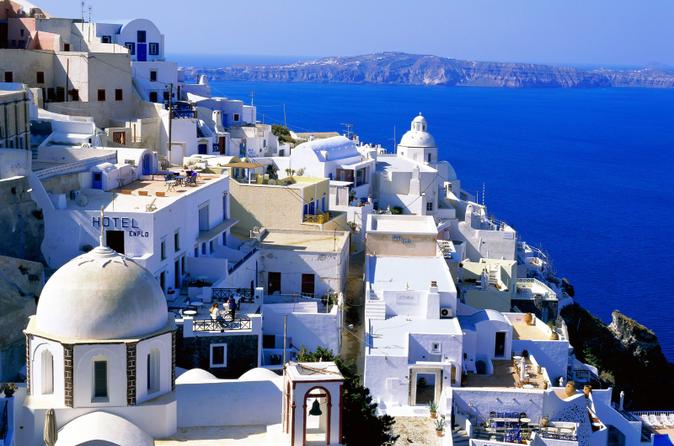 Holidays in Santorini is the dream of a lifetime for many people. As this is the top tourist destination in Greece, the island is famous for the impressive caldera, the volcano and the romantic sunset. In fact, it is frequently included among the best destinations in the world. Over the last years, tourist season has extended in Santorini, from early April until early November due to the many cruise ships that dock there.

Due to the good ferry connection with other Greek islands, holidays in Santorini can easily be combined with holidays in other islands. There are also many charter flights to Santorini from abroad, making it easy to come to this small paradise on Earth.
General information
Have a look in the travel guide that we have prepared and see all the useful information to organize better your holidays in Santorini: see the villages, beaches, sights, churches, museums and more. Also have a look on our photos, 360 pictures and maps to get a better understanding of the island.
Things to see and do
Our Santorini guide will give you all the necessary information in order to travel and discover the sightseeing and the things to do on this beautiful island of Greece. Check our pages and organize your Santorini holidays in the most complete way. Santorini island, located on the southern side of the Aegean Sea, is among the most popular Greek islands, along with Mykonos and Crete. The event that marked its history was the enormous volcanic eruption of 1,650 BC. This eruption changed the circular shape of the island and created the famous caldera, on top of which picturesque villages were constructed in the Medieval times. 

The caldera villages of Santorini Greece are incredible with their traditional architecture, the paved streets and the breathtaking view to the sea. The village of Oia, in particular, is famous for the romantic sunset. Book a hotel at the caldera and the experience of your Santorini holidays will be unforgettable. Also do not miss the restaurants with the amazing view to the volcano. This volcano can be visited by boat tour from the old port of Fira.

On the southern side of the island, there are large beaches to enjoy a day in the sun. Kamari and Perissa are the best organized beaches and famous for their black sand, while very popular is the Red Beach. Close to the Red Beach is the Minoan Site of Akrotiri, which was covered in volcanic ash by the eruption of Thira. Our travel guide of Santorini, in Greece, provides information about sightseeing, things to do, villages, beaches, museums, churches and more. 
more: www.greeka.com